One calendar to rule them all
All your appointments are available in one interface. Make changes. Look up future bookings. Add notes or custom data to each appointment. You and your staff are all in full control.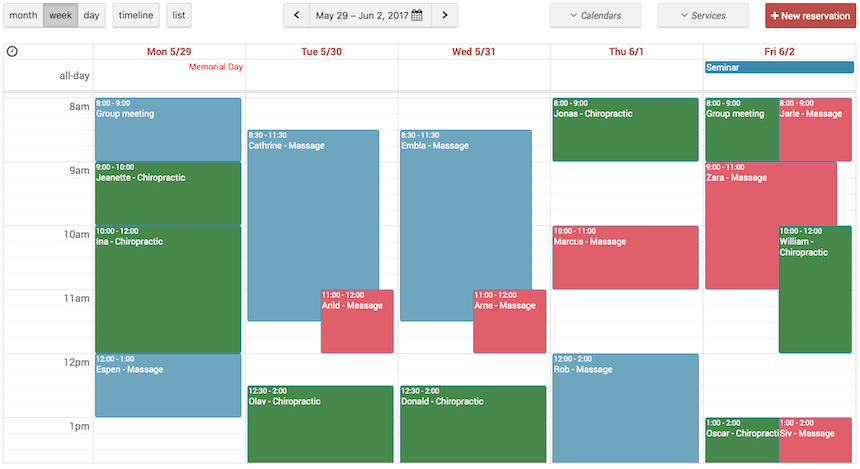 Put it on repeat!
Monday meetings at 9AM? A customer who needs to make that booking on the first Monday every month? Just add a repeating appointment.
Define your own availability
Set up your standard availability for the weekdays: Mon-Wed 9AM-3PM, Thu 11AM-6PM and TGIF 1PM-2PM. But what about those busy holidays? No worries, just adjust your availability for specific dates. Closed on November 25th? Done. Extended opening hours every Saturday in December? Done. Lunch every day at noon? You got it!
Flexible by design
With MakePlans you can adjust how things look and work. You can for example fine tune the calendar with how many minutes each cell should show. Or if you only work during the weekdays then why not hide the weekends in the calendar?
You can also add custom fields to all objects in MakePlans. So each calendar, service, customer, booking, can all store extra custom information. You can add fields for text, checkboxes, drop-downs and more. Or some custom HTML with Liquid template logic - your developer will love the flexibility that MakePlans offers.
Multiple users
Add as many users as you want. We don't charge for extra users. We want to share our booking love with everyone.
Real-time data
Don't get stuck in the past. The MakePlans calendars is alive - all data is updated in real-time.
The same applies to the booking site. If a reservation needs manual confirmation the page updates automatically.